As the
city of skyscrapers
, Chicago rivals New York with its tall buildings and innovative designs. You'll find endlessly unique architectural styles in the buildings and offices all throughout the city. If you're looking into Chicago luxury real estate, you'll likely encounter plenty of innovative design choices and iconic buildings. But first, here's a list of the most notable architects in Chicago.
Ludwig Mies van der Rohe
Trained under the architect Peter Behrens, the notable
Ludwig Mies van der Rohe
emigrated to the United States from Germany and became the Director of Architecture at the Illinois Institute of Technology. He followed the idea that "less is more" and believed that architecture's purpose was to meet the societal needs of the time. He also worked to create spaces that could adapt to situations as they arose. As such, much of his architecture defined space and transparency, which broke down barriers between the interior and exterior. Rohe used mostly steel and glass in his work, with minimal use of other materials like concrete.
This architect's work shaped not only the Illinois Institute of Technology's design, with its exposed steel, glass, and brick, but also many other
construction projects
in and outside of Chicago. He was commissioned for the Lake Shore Drive Apartments and Promontory Apartments in Chicago, the Farnsworth House in Plano, Illinois, as well as the Seagram Building in New York City.
Today, Ludwig Mies van der Rohe's modern influences and stylistic elements have been mirrored all around the world in office buildings and other structures. His work is a testament to spreading the
International Style
of sleek constructions. When looking at the area around Chicago luxury houses, remember to thank this architect for shaping the city's look.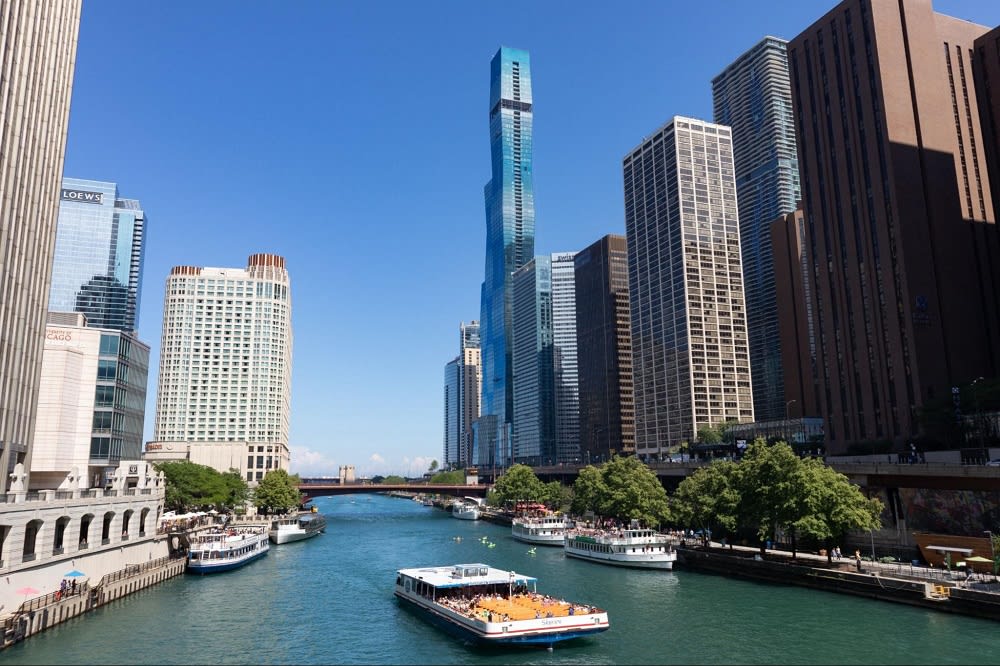 The St. Regis Chicago (Vista Tower) by Studio Gang. Courtesy of Shutterstock.
Jeanne Gang
Award-winning architect
Jeanne Gang
is also a professor in practice at the Harvard Graduate School of Design and the author of three books on architecture. Gang has an inquisitive, forward-looking approach to design, and her process emphasizes experimentation, research, and collaboration. She's also invested in expanding the active role of designers in society. She gains insights from ecological systems to create buildings that foster connections between people, communities, and their environment.

Those interested in Chicago luxury real estate may notice her work in pieces such as Writers Theater in Glencoe, Illinois, the Aqua Tower in Chicago, and the O'Hare Global Terminal in Chicago. She works all across the Americas and Europe and is responsible for the vision of a United States Embassy in Brasília and Mira in San Francisco, California.

The impact of Gang's work is undoubtedly large, wide, and growing. This architect is always thinking about the future, evident in her body of research, publications, and exhibitions that encapsulate "actionable idealism"—in other words, supporting environmental resiliency, fostering equity, and empowering communities through the creation of new spaces.
Robert A.M. Stern
Award-winning architect
Robert A.M. Stern
is also the author of several books and the topic of twenty books about his work. Stern is an accomplished architect who was the Dean of the Yale School of Architecture. Before that, he was the Director of the Historic Preservation Program at the Graduate School of Architecture, Planning, and Preservation at Columbia University. His work is shown in many galleries and university exhibitions, as well as in the permanent collections of the Museum of Modern Art, the Metropolitan Museum of Art, and many other establishments.
In Chicago, Robert A.M. Stern designed the sleek highrise One Bennett Place in the Streeterville neighborhood. Erected in 2019, the apartment and condominium building boasts stunning views of Lake Michigan. It offers a memorable skyline silhouette with a lantern atop the tower.

Stern's work is visible throughout the U.S. as well as Europe, Asia, and South America. Working on residential, commercial, and institutional projects, his history of work is wide and varied. These include Celebration, Florida (a collaboration on a master-planned community), Sunstone, a house in Quogue, New York, and the revitalization of 42nd Street Now!, a theater block in New York City.

Those searching for Chicago luxury houses can consider the several housing styles Stern and his team offer to their clients. Whether looking for an American Modern Style or a reinvention of the Shingle Style home, the scholarly approach of Stern and his team ensures quality, attention to detail, and client participation and feedback through each step of the process.
Daniel Hudson Burnham
Widely considered the most powerful architect in American history,
Daniel Hudson Burnham
was a renowned urban planner and proponent of the
Beaux-Arts movement
, incorporating the principles of French neoclassicism with Renaissance, and Baroque elements with iron and glass. He was the Director of Works for the 1892-93 World's Columbian Exposition, which was known as "The White City," and played a prominent role in master planning numerous cities around the world, including Chicago, Manila, Baguio, and Washington, D.C.
He famously designed the Flatiron Building in New York City and D.C.'s Union Station, but closer to home (and Chicago luxury houses), he was the architect behind numerous buildings, gates, and other notable architectural works, including the Reliance Building, the Monadnock Building, Chicago's own Union Station, and the Union Stock Yard Gate.

An early environmentalist, he also held numerous positions, including the president of the American Institute of Architects. His son Daniel Hudson Burnham Jr. was also a renowned architect and worked in his father's firm D.H. Burnham & Company.
Lucien Lagrange
Born in France and educated in Quebec, Canada,
Lucien Lagrange
founded Lucien Lagrange Architects, which follows the tradition of
New Urbanism
, which promotes environmentally friendly designs and walkable communities, and
New Classical Architecture
, which is considered the modern continuation of neoclassicism. Now rebranded as Lucien Lagrange Studio, he is currently working on the construction or renovation of numerous notable buildings in Chicago, including the Blackstone Hotel and Waldorf Astoria Chicago, and revitalized the Chicago Landmark-designated Carbide & Carbon Building into the Hard Rock Hotel. Lagrange is also the mastermind behind Lincoln Park 2550, located at 2550 N Lakeview in Chicago. The 39-story tower offers residents an array of amenities including a lovely 1.25 acre private park.
Lagrange has worked with a number of renowned Chicago architects, including Ludwig Mies van der Rohe, and has garnered a reputation as the city's premier architect for the wealthy, incorporating luxurious lifestyle elements into the very structure of his classically-inspired buildings. For those searching for Chicago luxury houses, consider Lagrange's use of striking geometric shapes, classic lines, and sharp details, which you can see in buildings such as the Ritz-Carlton Residences on the Magnificent Mile.
Laurence O. Booth
Award-winning Chicago architect
Laurence O. Booth
of
Booth Hansen
founded the firm in 1980 with the strong belief that meaningful and useful buildings can be realized with "an organized and open creative process." Serving as the Director and Design Principal, he leads the conceptual development of every project, which span a career of more than 50 years over numerous commercial buildings, cultural institutions, educational facilities, and residences.
Booth is a clinical professor of civil and environmental engineering and the Richard C. Halpern/Rise International Architect in Residence at Northwestern University, and he has also served as a visiting professor at the Harvard Graduate School of Design, University of California, Berkeley, and the University of Illinois. He is also a fellow at the American Institute of Architects and an academician with the National Academy in New York City.
If you're searching for Chicago luxury houses, keep your eyes open for the strong presence Booth's work has made on the city's cultural landscape: not only has he served on the board of over a dozen cultural institutions, including the School of the Art Institute of Chicago and the Chicago Symphony Orchestra, he has designed among others, the CIBC Theatre, the Asian Art Museum, Ganz Hall, and the Kohl Children's Museum.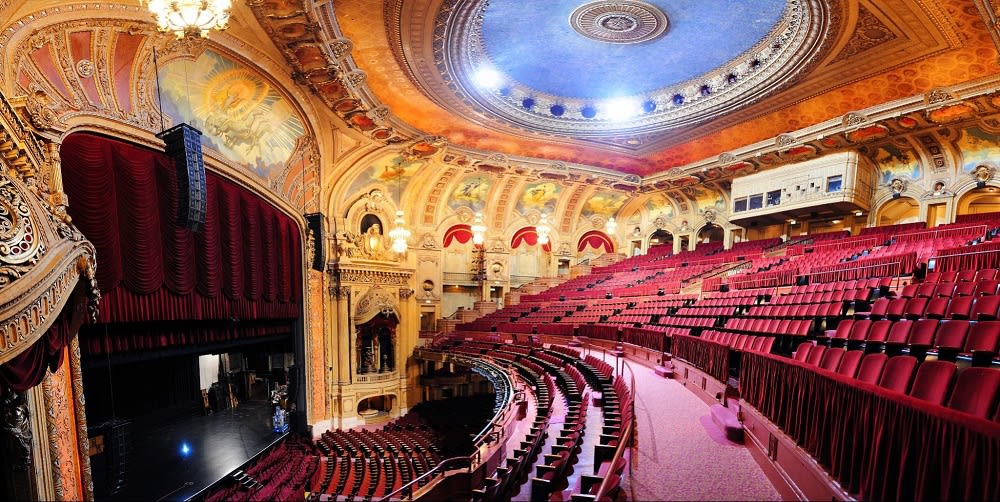 Chicago Theatre interior, built in 1921. Courtesy of Shutterstock.
Louis Sullivan
Known as the father of modern American architecture,
Louis Sullivan
was born in Boston and moved to Chicago after apprenticing for Emile Vaudremer in Paris. While in Chicago, his "fresco secco" stencils rose in fame, and shortly after he began his partnership with Dankmar Adler. Through this partnership, they transformed theater architecture through projects like the Auditorium Building in Chicago, with its 10-story construction of granite and limestone, 17-story tower, and simple exterior but lavish interior. Other notable works in Chicago include the Schiller Building and the Chicago Stock Exchange Building.
Through his work, Sullivan developed the aesthetics and dynamics for the first skyscraper that surrounded Chicago luxury houses. The most important skyscraper that Sullivan and Adler worked on was the
Wainwright Building
in St. Louis, Missouri. After his 14-year partnership with Adler ended, his work began to slow down. However, he did still complete major commissions like the Carson Pirie Scott store in Chicago, whose ornamentation is based on geometry and natural forms.
One of his main architectural design theories was that "
form follows function
." In other words, a building's design should be indicative of its function, and if the function doesn't change, then neither should its form. Sullivan's ideas influenced future architect Frank Lloyd Wright, whose work also shaped Chicago.
Ready to invest in Chicago luxury real estate?
Chicago's architecture is one of a kind, and definitely a perk when moving to this city. With former architects like Ludwig Mies van der Rohe and Louis Sullivan shaping the city, to present-day architects Jeanne Gang and Robert A.M. Stern adding and reshaping Chicago's architecture, this city is in good hands. When you're ready to live closer to the works of these brilliant minds, contact the
Gillman Group
for help in finding the perfect home for you.